Dillenger, our Missouri Foxtrotter, really took to off-site trail riding. He loaded easily and was relaxed and happy to be in a new environment. He even went saddle free. Bringing him along was a lot of fun.
Here he is with Mark, taking  a break….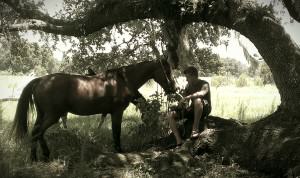 On the way back, Mark just rode him with a halter and a lead rope. It gave him a chance to snack here and there….
He loved it…..